by Unknown | 7/31/2009 12:55:00 PM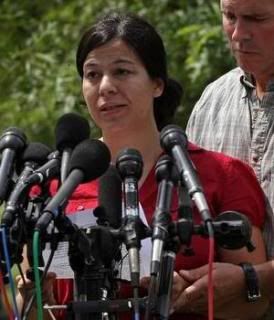 I was going to leave Lucia Whalen alone after her
tearful press conference
, but
Aaron Bady's post
has convinced me that there are people out there who still don't get it. So, let's try again.
Bady claims that Whalen, the woman who
called police on Henry Louis Gates for attempting to break into his own house
, is "pretty much the only person involved in the Gates imbroglio who didn't over-react, the only person whose actions don't seem to reflect a sense of personal grievance or entitlement. ... There seems to be little or no room in the narrative for a person who simply tried to do the right thing in a difficult situation, with full cognizance and awareness of the difficulties of that situation. No good deed goes unpunished." Obviously, Bady buys Whalen's defense that because she never told the arresting officer that Gates was black, she can't be a racist. In doing so, he falls prey to the most simplistic of stereotypes regarding racism, and he fails to recognize the full import of the racism that likely
did
motivate Whalen's phone call to police, despite all her denials.


When people think of the term "racist," they think of folks like Bull Connor and George Wallace and Theodore Bilbo -- big swaggering brutes who display their hatred of black people like a badge of honor. Because people rightly observe that the Connors and Wallaces of old have virtually disappeared from the public scene, and that behavior such as theirs is now unacceptable, they assume that racism no longer exists in any important fashion. So really, the image of Bull Connor as the archetypal racist is one of the most nefarious cultural ideas active today. It blinds people to what's right in front of their eyes, because they're so focused on what's NOT there.

No one is claiming that Lucia Whalen is a Bull Connor-style racist. But then, very few people of any importance are these days. Bull Connor is to modern racism as ENIAC is to modern computers. Sure, there are still some of the old dinosaurs still around today, and sure, they occasionally wield some power, but really they're museum pieces, pariahs, and jokes.

The new racism -- again like new computers -- is sleek and shiny and unobtrusive. It's a velvet-cloaked, dagger-in-the-night kind of racism -- a kind made extra dangerous by the fact that few of us even recognize we have it. It manifests itself not in white hoods and burning crosses, but in the little flicker of revulsion white Americans feel when a black man walks by us on the street; the flicker of doubt we feel when a black woman demonstrates superlative achievement in college or on the job; the flicker of relief we feel when our new co-workers or neighbors turn out to be white rather than black; the flicker of discomfort we feel when we come into contact with African-Americans in our neighborhoods or anywhere else.

How can a mere flicker create a societal malaise? When we act on it -- something that we do with frightening regularity. The numbers on this do not lie. The following statistics are taken from pages x-xi of How Race Survived U.S. History (2008) by David Roediger, who is one of America's greatest historians of race. Roediger in turn got them from various government sources. Keep in mind when you read these that there are no real, tangible reasons for African-Americans to have a dfferent standard of living from whites nearly half a century after the end of Jim Crow.


Black males born in 1991 have a 29% chance of imprisonment. White males have less than 1/7 of that.


In 2004, the black poverty rate was nearly three times the white poverty rate. Nearly a third of black children lived in poverty, versus a tenth of white children.


In 2008, two-thirds of African-American urban students were in schools where less than 10 percent of the students were white.


In 1998, the average net worth of black and Hispanic families was 17.28% that of white families


In 2008, black unemployment was at 25% -- the peak level of American unemployment during the Great Depression. White unemployment in 2008 was less than 10% (it's higher now).


This is the very real and serious problem that Gates' arrest points up: the fact that our subconscious and unconscious racism has tangible and devastating effects on the African-American population. But racism today is a moving target, both because so few people are aware they possess it and because we are so resistant to being labeled racists. No one wants to be Bull Connor, and in the process we run headlong to the opposite extreme without acknowledging the very real damage our prejudices and racist impulses cause.

Of course Lucia Whalen isn't a racist -- and neither are most other people. She's not special or evil or, really, different from anyone else. Instead, she's a representative of a white American culture that is sown through with racism. The idea that she had to explicitly mention Gates' race or consciously think about it in order to be acting from racist motives is ludicrous on its face. Would she have called the cops if Gates and his driver had been white? I don't know. Would she have been less likely to do so? I guarantee it. That right there is the problem -- a problem not unique to Lucia Whalen, but common to virtually all non-black Americans. It's not a problem that's easily solved, nor should we assume that a solution can be achieved with any real speed. But the frustrating thing is when people like Lucia Whalen and Aaron Bady spend more time denying that they're Bull Connor than searching their souls to find out what they really are.


Labels: Jeremy Young