by Winter Rabbit | 1/17/2009 09:57:00 AM

Petition: Obama Free Leonard Peltier!

Therefore Be It Resolved, that we require the new incoming President Barack Obama immediately offer a Presidential Pardon to Mr. Leonard Peltier so that Leonard may join his children and grandchildren and continue the fight for Indigenous freedom.




The American public in 1973 would probably not have found the fact that a law officer could kill an unarmed man as credible as they do today.



Also, they probably didn't see the corruption like they do today, either. I don't even need to give examples it's so bad; however, here's an example of injustice I'll give.



Source

Key witnesses were banned from testifying about FBI misconduct & testimony about the conditions and atmosphere on the Pine Ridge Reservation at the time of the shoot-out was severely restricted. Important evidence, such as conflicting ballistics reports, was ruled inadmissible. Still, the U.S. Prosecutor failed to produce a single witness who could identify Peltier as the shooter. Instead, the government tied a bullet casing found near the bodies of their agents to the alleged murder weapon, arguing that this gun had been the only one of its kind used during the shootout, and that it had belonged to Peltier.



Oh, I just can't believe that law enforcement would kill an unarmed man, because such agencies are above political improprieties, just like I can't believe the FBI agents cut off Anna Mae Pictou-Aquash's hands after her death.



Source

The 30-year-old aboriginal activist, a Mi'kmaq from Nova Scotia, died in 1975, believed assassinated either by agents with the United States Federal Bureau of Investigation or by senior members of the American Indian Movement (AIM).



Furthermore, the reason I can't believe the FBI agents cut off Anna Mae Pictou-Aquash's hands, is we don't torture.




What goes on here deserves the same amount of attention as what goes on there, or do we free the political prisoners over there, so we don't have to free the political prisoner over here?




Petition: Obama Free Leonard Peltier!

Therefore Be It Resolved, that we require the new incoming President Barack Obama immediately offer a Presidential Pardon to Mr. Leonard Peltier so that Leonard may join his children and grandchildren and continue the fight for Indigenous freedom.



Lastly, why would an FBI agent who was there write a book and then this?



Here is a recent letter from former SAC Minneapolis, Joe Trimbach, to Congressman John Conyers, the recipient of a new major petition campaign to gain Peltier's freedom:



January 6, 2009


The Honorable John Conyers, Jr.
Chairman, Committee on the Judiciary
U.S.House of Representatives
2138 Rayburn House Office Building
Washington, DC 20515

Dear Congressman Conyers,


Please reference my letter of August 7, 2008, in which I described the fraudulent defense of Leonard Peltier, convicted in the 1975 execution-style murders of FBI Agents Ron Williams and Jack Coler. As you recall, I was the Special Agent in Charge (SAC) in Minneapolis from 1973 to 1975 during the period when leaders of the American Indian Movement (AIM) terrorized the Pine Ridge Reservation in South Dakota. My book, American Indian Mafia, exposes many of the myths and falsehoods perpetuated by the AIM leadership in an effort to blame their criminal activity on the FBI and other law enforcement agencies. One of their favorite myths, the alleged use of COINTELPRO against AIM, is one of several debunked in Mafia.


I am compelled to write to you again concerning renewed efforts to gain Peltier's freedom. President-elect Obama is under enormous pressure to grant Peltier a presidential pardon. He needs to be briefed that Peltier's claimed innocence and the denials of his involvement in those double homicides constitute one of the biggest myths from that period of violence. I was there that day, responding to the frantic calls from Ron Williams as he and his partner, Jack Coler, came under fire. By the time I arrived from Minneapolis, some four hours later, the shooting was still going on. In fact, as my SWAT team chased Peltier into the hills, he and his accomplices shot at us. I still remember a plume of dirt flying up just a few feet from my position.


My book exposes the fantasies that have arisen out of Peltier's makeover: from a cold-blooded, unrepentant killer, to a wronged man, a Native American "prisoner of conscience." Congressman Conyers, Leonard Peltier has no conscience when it comes to owning up to his crimes. In noting his conviction of aiding and abetting the murders, Peltier's 1993 Parole Board concluded, "…the Commission is persuaded that the greater probability is that you yourself fired the fatal shots…" To this day, Peltier remains defiant, manipulative, and completely remorseless. Freeing this ruthless killer would be a terrible travesty of justice.


There was a time when Peltier might have earned his freedom if he had shown genuine contrition and had taken responsibility for his crimes. Instead, he has spent his years in prison hiding behind a manufactured persona of victimhood while conning millions of people out of their time and money in support of his evil defense. Peltier has made a mockery of Indians who have suffered genuine oppression and injustice.


Congressman Conyers, I hope you will view the Peltier video at my web site, www. americanindianmafia. com.It shows him constantly changing his story when confronted with the facts. Enclosed are more reasons why Peltier must not be granted a pardon. I hope you will not be one of those fooled by Peltier's lies. Thousands of FBI Agents and law enforcement officers are counting on you to stand up against all efforts to free this guilty "cop killer."


Regards,


Joe Trimbach


Reasons Why Leonard Peltier Should Never Receive a Presidential Pardon


1. Peltier was fairly tried and fairly convicted. This is the conclusion of every federal judge who's reviewed the case. Since his conviction in 1977, the evidence against Peltier has been repeatedly confirmed, expanded, and corroborated. Peltier is no more a political prisoner than is Charles Manson.[For the facts of the case, see: http://www. noparolepeltier. com/585. html(Note FN 15: "The two witnesses testified outside the presence of the jury that after their testimony at trial, they had been threatened by Peltier himself that if they did not return to court and testify that their earlier testimony had been induced by F.B.I. threats, their lives would be in danger.".)]


2. Facts of the case prove that Peltier opened fire on the Agents from a distance of over 200 yards. Armed with only their side arms, both young men were soon wounded. After the initial shooting ended, Peltier, along with two other men, walked down to the wounded Agents and finished them off, shooting them both in the face at point-blank range.


3. A few months after the murders, Peltier bragged about killing Ron Williams, as recalled by Ka-Mook Banks in a separate murder trial in 2004. Under oath, Banks recalled Peltier's exact words: "The motherfu—er was begging for his life but I shot him anyway." [See: http://www. jfamr. org/doc/kmtest1. html]. To this day, Peltier remains completely unrepentant and utterly without remorse.


4. Peltier has parlayed his Native American ancestry into a successful defense fund, bilking millions of people out of their time and money. He has fooled Amnesty International, Mikhail Gorbachev, Nelson Mandela, Bishop Desmond Tutu, and the Dali Lama. Peltier is supported by Hollywood heavyweights Robert Redford, David Geffen, and Oliver Stone, all of whom have fallen prey to his propaganda machine. President-elect Obama needs to be briefed on the facts of the case in order to withstand the pressure from his political supporters.


5. Freeing an unrepentant murderer is contrary to all principles of parole and rehabilitation. It would undermine law enforcement efforts, subvert the rule of law, and compound the anguish of the victims' families. A presidential pardon would be particularly devastating to FBI Agents who risk their lives every day in pursuit of criminals. A pardon would also be detrimental to American interests by giving ammunition to our enemies. They will point to our system of justice as one that convicts innocent Native Americans, thus confirming their argument that Peltier was wrongfully convicted and that our court system is unfair. Worldwide media will parrot these conclusions as if they are fact-based.


6. A Peltier pardon would undermine efforts to investigate crimes on Indian reservations. Many Indians would view his freedom as a sign that the FBI and the Justice Department had always tried to mislead Indian Country about the facts of the case. Many Indians would be more reluctant to cooperate with current investigations.


7. Peltier escaped from prison in July 1979 during which a young Indian was shot and killed. Peltier claimed he was targeted by the FBI for assassination. The truth is that he had planned his escape for several years, and counted on help from outside contacts. Peltier must be held responsible for the needless death he caused and for threatening a man from whom he stole a truck during his escape.The Eighth Circuit Court of Appeals found that Peltier threatened witnesses who testified against him during his trial


8. If Peltier is freed, it will be much more difficult to indict him on other murders where he may have been involved. In one of these cases, Peltier interrogated a young woman, Anna Mae Aquash, by putting a loaded gun in her mouth.[See: http://www. americanindianmafia. com/audio/GunInHerMouthReMix. wmv]. Aquash was murdered three months later by the American Indian Movement leadership. (The alleged triggerman in that case finally goes on trial in February 2009 in federal court, Rapid City.)


9. Contrary to his claims, Peltier has always put himself above the welfare of Native Americans. One of his recent newsletters opened with the words, "May Death Be Upon You, FBI." These are not the thoughts of an innocent man, but rather the wish of someone wanting to stir up violence. Peltier would like nothing better than to agitate for criminal acts against Indians who oppose his freedom and who count on the FBI to apprehend evildoers on the reservation. Peltier has nothing but contempt for our system of justice. He has done nothing to earn his freedom. He is guilty and should stay in prison until he dies a natural death.

John Trimbach
Trimbach & Associates, Inc.
Peachtree City, GA
Phone : 770-883-5086
Fax : 770-631-3696
Contact John M.Trimbach



So, why would an FBI agent who was there write a book and then that?




Source

Q:
Mr. Trudell, did you have a conversation with Annie Mae Aquash with reference to David Price?

A:
Yes, I did...

Q:
And would you indicate for the record what she said to you and what you said to her?

A:
She told me she had been arrested at Crow Dog's and...Price saw her and when he saw her he shined his flashlight on her and when he saw who she was he said, "There you are. We have been looking for you," and that is all the conversation that took place there. They took them all to Pierre and she said during her interrogation by Price and another agent...that Price had told her he knew that she knew who shot those agents, and that she could - should cooperate, and if she would, she would get a new identity, and she would get a new place to live...She cussed at him and he told her that if she wanted to have that attitude he would see her dead within a year...
The last time I saw her was the first - very first part of October, I believe - in Los Angeles. She told me at the time that she would go back to court and then the next time I saw anything, I saw her on TV in Oregon, three days before she was going to appear in court, and she had been arrested with Kamook Banks and Russell Redner and Kenneth Loud Hawk in Oregon in Oregon and that was the last time I ever saw her [the results of this arrest are chronicled in Loud Hawk - The United States versus the American Indian Movement, Kenneth S. Stern, University of Oklahoma Press, ISBN 0-8061-2587-X]. She went back...

- snip –

Q:
Didn't you tell her that if she didn't cooperate with you she would be dead within a year?

A:
No, I did not.

Q:
If you did, you would, of course, say so?

A:
I did not say those words.

Q:
I am not asking those questions. If you had made such an expression to her, a potential witness, you would admit it under oath, wouldn't you?

Prosecution:
I object. The question has been asked and answered three times.


Source

A recently uncovered FBI document, discovered through the Freedom of Information Act (FOIA), strongly suggests that the FBI choose not to prosecute anyone for the murder of Anna Mae for 29 years, but instead to covered up for those whom they knew were implicated in her murder, to protect an operative/informant working with them.



Why? Let's say it's because his credibility is lacking.




Amnesty International urges Clinton to grant pardon to Leonard Peltier

Amnesty International is today calling on President Clinton to grant Leonard Peltier presidential pardon before leaving office. Leonard Peltier, a Native American Indian, has been in prison for 23 years for the murder of two Federal Bureau of Investigation (FBI) agents.

- snip –

Amnesty International believes that the evidence that Peltier shot the two FBI agents is far from conclusive. One of the organization's pivotal concerns was that his extradition from Canada was on the basis of a testimony by an alleged eye-witness who was coerced by the FBI into making false statements. In a recent public hearing in Toronto, Canada, Myrtle Poor Bear reasserted that her original claim -- that she was Peltier's girlfriend and that she saw him shoot the agents -- was false, and was a result of months of threats and harassment from FBI agents. She had also said that she had been 80 kilometers (50 miles) away from the scene at the time of the shooting.

Amnesty International has repeatedly voiced serious concerns over the fairness of the legal proceedings which led to Leonard Peltier's conviction and sentence, and believes that political factors may have influenced the way in which the case was conducted.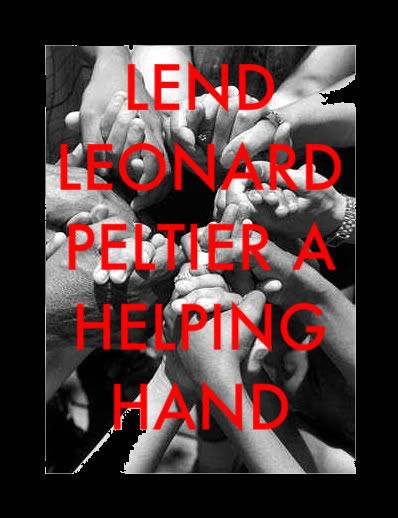 Petition: Obama Free Leonard Peltier!

Therefore Be It Resolved, that we require the new incoming President Barack Obama immediately offer a Presidential Pardon to Mr. Leonard Peltier so that Leonard may join his children and grandchildren and continue the fight for Indigenous freedom.


Source

It should be noted that, using the preliminary figure of only 61 homicides of AIM members and supporters during the same period, researchers Bruce Johansen and Roberto Maestas, in their book "Wasichu:The Continuing Indian Wars (New York:Monthly Review Press, 1979, pp. 83-4), arrived at the following analysis of its implications: Using only documented political deaths, the yearly murder rate on Pine Ridge Reservation between 1, 1973 and March 1, 1976, was 170 per 100,000. By comparison, Detroit, the reputed murder capital of the United States, had a rate of 20.2 per 100,000...An estimated 20,000 persons were murdered in the United States during 1974. In a nation of 200 million persons, a murder rate comparable with that of Pine Ridge between 1973 and 1976 would have left 340,000 persons dead for political reasons alone in one year; 1.32 million in three...The political murder rate at Pine Ridge between March 1, 1973, and March 1, 1976, was almost equivalent to that in Chile during the three years after a military coup supported by the United States deposed and killed President Salvador Allende...Based on Chile's population of 10 million, the estimated fifty thousand persons killed in three years of political repression in Chile (1973-1976) roughly paralleled the murder rate at Pine Ridge.


Labels: Leonard Peliter, Native Americas, winter rabbit