by Unknown | 1/26/2008 01:39:00 PM
[Cross-posted at Politics and Letters, MyDD, My Left Wing, and Open Left.]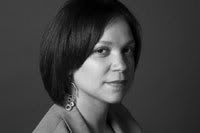 My new hero
, Melissa Harris-Lacewell,
advances one of the most interesting arguments I've seen
on why Obama is so equivocal in debates. Unlike most supporters of Obama, Harris-Lacewell has been following and supporting the Illinois Senator since he was elected to the State Senate nearly twelve years ago. According to Harris-Lacewell, Obama's rhetoric has changed because of the difficulties Obama faces in attempting to talk across the black-white divide:
Barack has already laid down what will be remembered as some of the most important pieces of American rhetoric in the 21st century: his "Joshua Generation" speech in Selma this summer; his triumphant victory address on the night of the Iowa caucuses; and his inspirational "Yes We Can!" speech on the night of the New Hampshire upset. While these moments of Barack's scripted voice are both authentic and inspiring; his debate voice is cautious, halting, and decidedly uninspired. I think it has everything to do with race.
As I watch Obama and Clinton I am convinced that I am seeing one of the wages of whiteness in action: it is easier to talk across gender difference than to speak across the racial divide. Americans share almost no common vocabulary across race. As a public opinion researcher, I consistently find that the greatest perceptual, cognitive and emotional gaps are between the races. We just don't see our world, think about our world, or feel about our world in similar ways. This is doesn't mean that all whites or all blacks see, think, or feel the same ways as one another, but it does means that there are greater shared understanding within these groups than across them. I think Obama lost voice happens because he is shouting across this deep racial chasm in American politics. He stops and waits for the words because he is actively censoring, updating and listening to every word he says before he says it. Politicians are already masters of self censorship (except Joe Biden of course), but with Barack the stakes are higher. He is trying to multiracial coalition, which means he is trying to build a coalition of people who speak different languages. In debates he is constantly trying to talk and translate at the same time. I think it ends up making him look unsure of himself. Barack maybe many things, but he is not unsure of himself!

I have seen Obama campaign twice before: first in 2000 against Bobby Rush and then in 2004 against Alan Keyes. In these intra-racial battles he was sometimes too wonkish. He often had flashes of arrogance and sometimes even looked vaguely bored. But he never stumbled and hesitated the way he does now. I have even noticed that Barack has developed a physical tick of pressing two fingers against his mouth when Hillary speaks. It is as if he is holding in the words and willing himself not to talk. I believe this has everything to do with the difficulty of trying to speak across race.


It's an interesting argument, though I'm not certain I agree, mostly because of the nature of Obama's 2004 race. I mean, seriously, Alan Keyes versus Obama was an intra-racial battle? I'm not questioning Keyes' blackness, but I dare anyone to name a single black Illinoisian who saw Keyes as "one of them." (His family doesn't count, since they're from Maryland.) Keyes' appeal, as I see it, was entirely to conservative whites. We could go into detail about whether whites are more or less likely to vote Republican based on the race of the Republican candidate -- this was an issue, notably, in the 2006 Maryland Senate race -- but the key here is that Keyes and Obama were almost certainly competing before an audience of white voters, as black voters had nearly uniformly decided for Obama the minute Keyes entered the race.

There's also the fact that Alan Keyes is, well, Alan Keyes. While he wasn't considered a disgrace when he entered the race -- he did tolerably well in the 2000 Presidential race and hadn't yet disowned his daughter for being a lesbian -- Obama, who had previously expected to face first millionaire self-funder Jack Ryan and then legendary football coach Mike Ditka, certainly didn't think there was much chance that he could lose to Keyes. It's quite possible that the lack of a close race between the two men allowed Obama to show his true colors. Similarly, in his 2000 race against Congressman Bobby Rush, Obama wasn't facing a close race, though in this case it was because the Congressman defeated him convincingly in the primary. Obama's State Senate seat wasn't in jeopardy (it was an off-year for legislative elections), and his chances of defeating Rush were almost nil -- so there was little at stake for him in the run. He could afford to be himself.

On the other hand, there is a campaign in Obama's history that provides a parallel to his current race in terms of how much was at stake for Obama: his 2004 U.S. Senate primary against State Comptroller Dan Hynes and millionaire Blair Hull. Ultimately, Hynes and Hull killed each other off with scads of negative campaigning on both sides, allowing Obama to coast to the nomination with a majority of the vote, but from the beginning of the campaign the outcome was far from certain (Hull led most polls until barely a month before the primary). Unfortunately, Harris-Lacewell doesn't mention this campaign, and I didn't follow it closely enough at the time to pick up on whether Obama was tough and direct or whether he stuttered uncertainly. But if we did have more information on this campaign, would it really matter? Like the 2008 race, Obama's 2004 nomination fight was both highly competitive and fought against two white candidates. If he proved to be more cautious in that earlier race, we would still not know whether it was because of "the wages of whiteness," as Harris-Lacewell argues, or because of his cautiousness in competitive campaigns, as I believe.

Whichever of us is right, it's unlikely Obama's newfound caution will leave us anytime soon. In fact, according to either theory, it will probably increase if he's elected President. In the White House, Obama will be playing on an international stage dominated by whites, speaking to a largely white audience, competing for policies against a largely white Congress. He'll also be keenly aware that the stakes are even higher than usual for our first black President: everything he says and does will be scrutinized intensely by both the media and the American public. If these things produce timidity in Obama now, imagine what will happen when he is President. Anyone hoping for a return to the old, fearless Obama of State Senate days is probably hoping in vain.


Labels: Jeremy Young