by Ralph Brauer | 12/11/2007 03:40:00 PM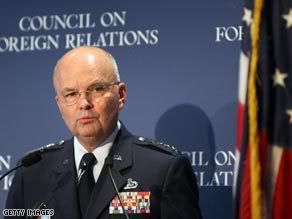 Image: CNN
With apologies to Ted Kennedy, the lost torture tapes are not Watergate, analogizing them misinterprets American history and misunderstands the meaning of both events.

Watergate still stands as one of America's most profound constitutional crises. It was, as someone said at the time, nothing less than an attempted coup d'état, an attempt to capture an election and destroy the opposition party by extra-legal means. If we accept Ann Coulter's definition of treason as taking an "anti-American" position, then Watergate was treason. If we define it in the strictly legal sense of trying to overthrow the government, then Watergate comes close, for Richard Nixon's creation of the so-called "plumbers" represents the first and only incident in American history where a sitting President created a private security force beholden only to him and dedicated to keeping him in office by illegal activity.

The plumbers were nothing less than Richard Nixon's secret police force. In this sense Watergate and the break-in of Daniel Ellsberg's psychiatrist's office along with the so-called "enemies list" all form a pattern and the fingerprints of that pattern lie directly on the Constitution. As Watergate has faded from memory, many try to blow it off as a failed "third rate burglary." To do so, profanes our country and its most critical legal and moral foundations.

Yes, Presidents secretly taped conversations and one can find several examples of electoral shenanigans beginning as far back as the maybe-it-happened, maybe-it-didn't secret bargain between john Quincy Adams and Henry Clay through the Hayes-Tilden election to whether Richard Daley voted enough tombstones to elect John Kennedy. But none of these rivals Watergate.

Had those burglars not been so third-rate, I shudder to think what a second Nixon term might have hatched. His secret police would have continued to operate, perhaps growing in size and scope. If Nixon had the boldness to order a break-in of Democratic Party headquarters, what was next?

Curiously it is a George W. Bush transgression little remembered today that most rivals Watergate. This deliberate violent attempt to seize the Presidency was euphemistically termed the "Brooks Brothers Riot," As detailed in The Strange Death of Liberal America; the Brooks Brothers Riot provokes wide disagreements about its significance. This much is clear: during the 2000 election fiasco, as Miami-Dade election officials worked their way through the laborious task of recounting ballots, a group of Republican activists, some of them flown in for the occasion, became angry that the recount was not proceeding as they wanted, so they forced their way into the room and confronted the vote counters, who in response finally ceased their task.

Writing about the event, commentator Mark Gigot, who witnessed it, claims the action was justified because of the blatantly political counting methods of the Miami-Dade ballot counters. As he puts it,
These folks were ready to blow.
The language in Gigot's article becomes a dead give-away. In one place he pointedly acknowledges a Republican threat to bring in "1,000 Cuban-Americans." Coupled with "ready to blow," he implies the rioters wanted to make a forceful statement that things had better go their way—or else. That adults in suits can behave like schoolyard bullies sends an unambiguous message about the values of the Counterrevolution. By rewarding the rioters with parties and promotions, the GOP underlined this message.

All this does not diminish the significance of the vanished CIA torture tapes. They also represent a Constitutional and moral crisis. Where Watergate and the "Brooks Brothers Riot" represent extra-legal and violent attempts to undermine the Constitution by violently subverting the electoral process and creating a secret police force, the missing CIA tapes, if they contained what is alleged, represent a low point in this nation's moral history because they document the first time the highest officials in this country have employed torture.

If Nixon's plumbers and Bush's Brooks Brothers rioters represented threats to voting rights and the very heart of our Constitutional democracy, the use of torture by the government represents a threat to our individual rights. In an article, "Torture and the Constitution," the Washington Post noted:
In ratifying the Convention Against Torture and Other Cruel Inhuman and Degrading Treatment in 1994, the Senate defined "cruel, inhuman and degrading" as any practice that would violate the Fifth, Eighth or 14th amendments.
Leaving aside the validity of this argument, which has spawned a lengthy legal debate, the mere fact that we are debating torture at all represents a bizarre state of affairs about one of the worst moral transgressions a government can commit. Forget also the arguments about whether torture "works" and all those what-ifs people trot out to justify the deliberate destruction of another human being. As the United Nations and the Nuremberg trials recognized, torture is a crime against humanity. The Convention Against Torture signed by the United States opens with the following:
Considering that, in accordance with the principles proclaimed in the Charter of the United Nations, recognition of the equal and inalienable rights of all members of the human family is the foundation of freedom, justice and peace in the world,

Recognizing that those rights derive from the inherent dignity of the human person...

All I can say is that I am glad my grandfather, who was sentenced to death by the Nazis and my uncle, whose mother died at Dachau, are not alive to see this debasement of the United States. In a moral sense there are no degrees of torture nor is there some imaginary continuum where at some point torture is justified. Once the decision is made to inflict deliberate pain on another human being, then a line has been crossed. It is absurd from a moral point of view to argue that waterboarding is not as "bad" as some other form of torture. A human being is suffering, period.

Apparently very few people seem bothered by the fact that it is not that the tapes were destroyed, but that they existed in the first place. Taping torture is perverse, no matter what the justification. The sheer act of taping implies someone would view those tapes and in my book watching tapes of torture is pornography of the worst sort. The Nazis also filmed their executions so officials could later watch them. In his opening statement at the so-called doctor's trial at Nuremberg, General Telford Taylor stated:
A nation which deliberately infects itself with poison will inevitably sicken and die.
As Taylor implies, torture involves something deeper and more disturbing than a mere Constitutional issue. When I researched the life of Fannie Lou Hamer, I found that she believed her torturers took a perverse pleasure in beating her, a pleasure that took on sexual overtones. Whether every act of systematically planning and carrying out torture involves sadomasochistic and sexual undertones, I will leave to the psychiatrists and psychologists, but Hamer, whose keen moral compass allowed her to hone on the ethical origins of a problem, was on to something.

What she is on to is that torture involves the systematic dehumanizing of a fellow human being. No sane person could conceive of torturing a family member or friend. The very thought is enough to churn your stomach. We only torture people we consider subhuman and no longer worthy of the moral respect we grant each other.

That is why the CIA admitted destroying those tapes, because, as CIA Director General Michael Hayden put it,
Beyond their lack of intelligence value -- as the interrogation sessions had already been exhaustively detailed in written channels -- and the absence of any legal or internal reason to keep them, the tapes posed a serious security risk. Were they ever to leak, they would permit identification of your CIA colleagues who had served in the program, exposing them and their families to retaliation from al Qaeda and its sympathizers.
In other words, if people viewed these tapes they would see that we regarded those we tortured as subhuman.

As with Watergate now comes the damage control, the desperate attempts to sever the Administration from the crime. It won't play. It won't play simply because these crimes against humanity occurred under George W. Bush's watch. That this comes during an administration that has stressed values only exposes the hypocrisy of the entire affair. John Dean said about Watergate, that there was a "cancer" in the White House, but Dean had the wrong analogy. Fannie Lou Hamer was closer to the truth. This is nothing less than perversion.

Crosspost: The Strange Death of Liberal America,My Left Wing

Labels: Ralph Brauer