by Gordon Taylor | 11/04/2007 08:30:00 PM
The above title is bracketed in quotation marks because it is, a) anything but original and, b) too perfect not to be used again. Think of it as an 18th-century melody: good enough, if coined by a Mozart, to be stolen by as many Salieris as possible--or vice versa. The original article, by Andrew Lee Butters, can be found
here
, and would make excellent reading even if I hadn't stolen its title. Butters does what I cannot do: he goes directly to Kandil Mountain in Iraq and finds that the women of the PKK are in fact human beings, engrossed in radical feminist and socialist ideology, distracted and sometimes annoyed by their relations with men, and dedicated to fighting--and killing--for a dream which may prove both impossible and fatal.
The above photograph shows Aynur ("moonlight"), or Devrim Siirt, to use her code name, on the right, accompanied by two colleagues, somewhere in the Kurdish mountains. Aynur is the female PKK soldier with whose photo I began this series. I'll post more pictures of Aynur's comrades later, but first I should take note of today's events in the foothills of Kandil Mountain, in Iraq.



On Saturday afternoon, 11/3/07, Ozgur Gundem, the pro-Kurdish and often-banned Istanbul newspaper, posted on its website the news that three members of Parliament, all members of the minority Democratic Society Party (DTP), had passed through the Khabur Border Gate from Turkey into Kurdish-controlled northern Iraq. A few minutes later the paper posted another item predicting that on Sunday, 11/4, the eight Turkish soldiers taken captive on October 21 near Oramar [see my previous post] would be released by the PKK. Today [I started this Sunday night], as predicted (and as reported by the Voice of America, among others), the men were released into the hands of the parliamentary delegation, two of whom were women (as shown above). From the release point the soldiers were taken to Erbil [

Arbela

, btw, to those familiar with the career of Alexander the Great] and put on a private plane back to Diyarbakir, in Turkey.

In other news from Turkey, which also bears upon the November 5 meeting between Pres. Bush and the Turkish Prime Minister, Recep Tayip Erdogan, demonstrations in Turkish cities opposed the expected cross-border operation by the Turkish Army. In Silopi, a town close to the Iraqi border, a crowd estimated at "tens of thousands" gathered to protest the attack:







These people are virtually all Turkish-born Kurds. The slogan "Yasa ve Yasat" refers, I believe, to Abdullah Ocalan, the PKK leader serving a life sentence on Imrali island in the Sea of Marmara. It means, "Long Live [Ocalan] and Keep [him] Alive." This, at least, is my amateurish translation. It probably refers to the widely-held belief, allegedly substantiated by forensic tests, that Ocalan is being slowly poisoned by prison authorities. Other pictures of the same event show scores of Ocalan pictures in the hands of demonstrators. This cannot be a good sign for those who hope to keep order in Kurd-dominated towns once a cross-border attack is launched. And keep in mind that Istanbul, with a population of 2 million Kurds, is the largest Kurdish city in the world.

Meanwhile, in Ankara, a crowd estimated at 40,000 (by www.bianet.org) also marched in opposition to the proposed cross-border attack. These people, however, were not Kurds. Chief organizers were the Association of Trade Unions, the Association of Architects and Engineers, and the Turkish Union of Physicians. Clearly large and highly respectable segments of the country oppose the ultra-nationalists who are demanding revenge for last month's attacks. A similar meeting took place in Istanbul.

But in the mountains, of course, we have these people:







Amazing, no? Don't forget to notice what their right hands are resting on, or the magazines of the Kalashnikovs curving upward. And should you think that, Hey, they can't be serious, you'd best think again. I urge those who are interested to find a copy of

Voices from the Front

, by Nadire Mater, an English translation of what was called "Mehmet's Book" in Turkish (Mehmet being the generic name given to a common soldier in Turkey). In the late 1990s Nadire Mater, a journalist, knew very little about what was going on in the East. She found out by interviewing draftees who had finished their service and returned to civilian life. The resulting book, with its pseudonymous interviewees' accounts of Army brutality--toward both captured guerrillas and the soldiers themselves--caused a sensation. In one memorable account, one man told of a night encounter with the PKK, and of hand-to-hand combat with PKK women whose terrifying image he could not put out of his mind. On the website, of course, the images are a lot friendlier:







You can't fake a picture like this. You can't put an official government-required Terrorist label on these women and expect the Kurds of Turkey to hate them as traitors and criminals. It just won't work. And of course, it hasn't. The PKK, which began in the 1980s with a Stalinist/Maoist agenda that virtually no Kurds had the least interest in adopting, has now become--thanks to the brutality and intransigence of the Turkish State, plus a moderation of its political goals--a highly popular group among the Kurds of Turkey. They seem to have no trouble attracting recruits, and of course these recruits regularly become "sehitlerimiz" -- "our martyrs." Among whom are people like this: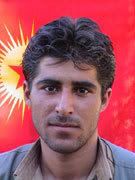 Or this:




Or this: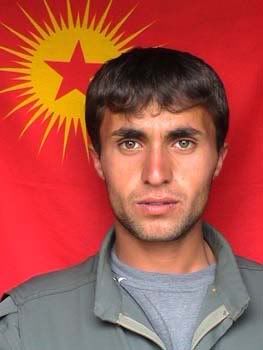 Yes, all three of the young people pictured above (Yuksel, Nebiha, and Halit) are dead. But lest I be accused of offering only guerrillas who could qualify as movie idols, we should consider these men, weary and dirty, ground down by long months of God-knows-what:







This is another picture that you can't fake. These guys, obviously, are in no mood to fake anything. They are the kind of toughness that keeps this thing going.

The next couple of posts we'll look at pictures of individual PKK fighters who have died and try, from the bare statistics offered, to get a more complete picture of who these people are. Also, a look at the real "Noah's Ark."

Labels: Gordon Taylor